We are enthusiastic, hard-working business executives, scientists, and engineers dedicated to keeping local businesses "flowing freely" by reducing fat, oil and grease contamination, and other pollutants; eliminating unpleasant odors and disease-causing organisms; decreasing unplanned plumbing expenses; and by protecting the environment. At EnviroLogik® we are experts in our fields and passionate about what we do!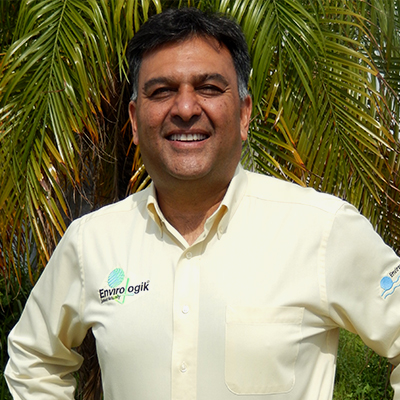 Chief Executive Officer, Founder

EnviroLogik® founder Aziz Tejpar was born in Kenya and educated in Nairobi before moving to the US, graduating with honors in International Business and Marketing from Florida Atlantic University. He moved back to Kenya and became a workshop manager in the family business, 'Inside Africa Safaris Ltd'. He became Managing Director after years of experience as Operations Manager and then Sales & Marketing Director, and developed the business into the 2nd largest car rental franchise in Kenya under the Budget Rent A Car brand. Aziz sold the company in 1990 and moved to Chelmsford, England to better care for his disabled daughter. Aziz leveraged his expertise in the rental car industry by starting a new Budget Rent A Car franchise in England with just 17 cars and 2 vans, eventually building it into a 1,500-car operation before selling to Budget International in 1998. He stayed in the motor trade, opening a dealership selling Subaru, Isuzu, and the iconic London Taxi.
He took a new business direction in September 2002 after reading about the innovative Environmental Biotech™ (EB) bacterial drain cleaning process, securing the European franchise rights. The system uses live bacteria to eat the fats, oils, and grease (FOG) that clogs drain lines and sewer systems causing backups, plumbing expenses, and foul smells, and attracting vermin. Initially started as a franchise in Florida in 1989, EB changed to a simple product distribution model a few years later, discontinuing much of the training and support previously offered.
Aziz built Environmental Biotech™ UK into a substantial service provider to major facility operators such as Wal-Mart, Asda, McDonald's, Whitbread, KFC, Costa Coffee, as well as municipal authorities and water utilities. In a remarkable move, Tejpar was able to take over the founding company in Florida, subsequently building and selling successful full-service operations in Bradenton FL, Atlanta GA, and Boston MA. High-performing franchises were operating in over a dozen countries all around the world, and Aziz sold his UK franchise business and moved his family to Florida in 2019 to relaunch the environmentally-friendly process as a franchise in North America.
Aziz and his wife Riz have two adult daughters, one of whom is a champion rally car driver!
Vice President of Franchise Development

Before joining Environmental Biotech™ and EnviroLogik® to relaunch the franchise in North America, Ron Bender spent almost 20 years as Vice President of Franchise Development for several leading concepts, including Wireless Zone and Big Frog Custom T-Shirts. He operated the Future Focus Franchise Performance consulting company with a partner, where they helped startup and emerging franchises set up or optimize their internal franchise sales processes and assisted with building stronger franchisee-franchisor relationships. He has been active with the International Franchise Association (IFA) since 2006, has been a Certified Franchise Executive (CFE) since 2010 and volunteers with Franchising Gives Back. Ron serves on the IFA VetFran Committee to encourage franchise ownership by and employment of US military veterans, and also serves as a mentor in the IFA's FranShip program and as a speaker and moderator at many franchise industry events. He was recognized with Franchise Update STAR Awards for Best in Franchise Recruitment in 2017 and Best Telephone Follow-up in 2018.
Before getting into the franchise industry, Ron got a BS in Marine Sciences with a concentration in Chemistry from Texas A&M University and worked in retail multi-unit management, sales training and marketing with Ritz Camera Centers and Boater's World. He and his wife Lisa have also operated several small businesses in photography and interior design.
He is passionate about helping people take control of their income and their lifestyle through franchise ownership, and about our environment, the franchise industry, college football, travel, lighthouses, dogs, beach volleyball, sports cars, family and friends!
Busniess Development Manager

Before joining Environmental Biotech™, Bill spent over 20 years in the Food and Beverage industry, most recently as a multi-unit manager. Bill has been a youth athletics coach for many years and both he and his wife Jennifer are very involved with social and educational organizations to make a positive impact on our youth. Mr. Halloran and his family are heavily committed to giving back and they support their local communities through volunteering.
Bill has been with Environmental Biotech™ and EnviroLogik® for over 15 years serving as Service Center and Field Manager, Training Coordinator, and currently as Business Development Manager and Director of Training. Bill brings expertise on our products, services, and solutions to a wide network of clients, assuring their success and cultivating prosperous business relationships. In addition to training our franchise owners and their employees, he works with a diversified group of clients from large to small companies and startups as well as municipal wastewater divisions.
Jerry joined Environmental Biotech™ in 2004 as it's CFO. Prior to joining Environmental Biotech™ he served as Vice President of Pipe Operations and CFO for Uponor Aldyl Company. Jerry attended the University of Delaware and completed the Certificate in Management Accounting while working for the Dupont company in various accounting and financial positions. He was instrumental in multiple divestitures and acquisitions, both in the US and internationally.
In addition, he started up US operations for a newly formed company including all operating, financial, accounting, supply chain and human resources systems. While CFO he also served as Secretary to the Board of Directors for the Internationally owned company.
Jerry has been active in the Junior Achievement Program as well as in Little League and Babe Ruth Baseball. He is an avid Philadelphia sports fan and has participated in many half marathons and 10K road races. He also enjoys golfing, travel, scuba diving, beach time with his wife and family outings.
EnviroLogik® has a worldwide reach and global knowledge, with successful franchises in Australia, the UK, The Netherlands, Singapore, Finland, India, Guam, Hong Kong, The Philippines, Germany, and China!
The EnviroLogik®team includes local franchise owners, product and equipment specialists, trainers, scientists, and more!